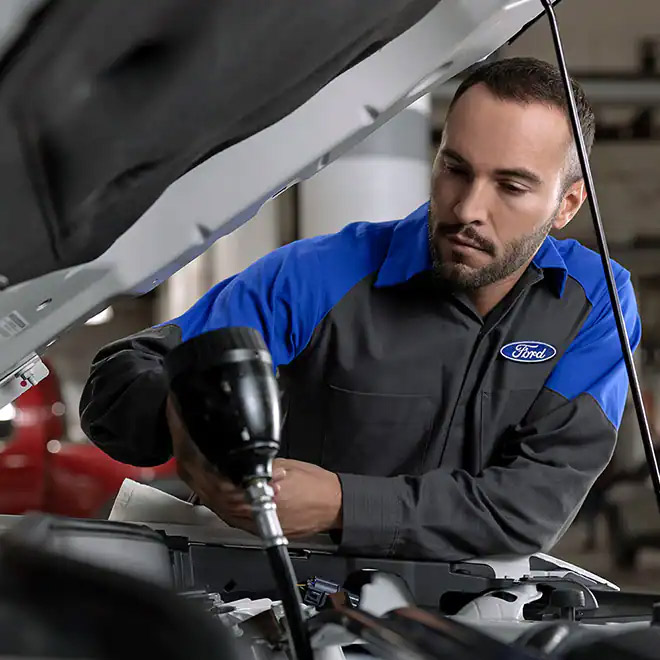 What is the Works Oil® Change Package at Ford?
When it comes to a vehicle's longevity, oil adjustments are important. Engine sections that aren't lubricated will brush against one another and produce more heating than they can. Oil has three functions: lubrication, cooling, and cleaning. Ford makes it easy for you to get the best value plus 100% satisfaction. This is the total package for an oil change.
The Works Oil® is a support kit specially designed for any Ford's needs. This comprehensive inspection allows mechanics to ensure that your Ford is clean and running at its best. It also ensures that the vehicle will continue to drive as new for years to come. Only genuine Ford parts made especially for your vehicle's model are included. As a result, the vehicle's durability is improved.
You can be assured that your technicians and support staff are continually trained. They are kept up to date with the new and greatest Ford technology.
The Works Oil® service consists of:
· Oil Change for Synthetic Combination
· Rotation of the tires
· Checking the Pressure
· Evaluation of the brakes
· Testing of several points
· Round Off With Fluids
· Test of the battery
· Review the tube, belt, and nozzles
A mechanic can suggest a brand of motor oil when you carry your car in for an oil change at a Ford dealership. Our technicians are sure to give you the best oil, the best brand, so you leave our dealership happy.
Call our Ed Morse Ford Lebanon dealer if you're interested in The Works® Package. The easiest way is to schedule an appointment online here. A Ford specialist will complete the job quickly, and you will drive away with a high-performance car. We have many specials running so be sure to always check our coupons page to save.